---
'71-Older Jeep Ignition Upgrade

THIS PAGE IS FOR...

The Jeep 'Dauntless' 225 CID V-6 Engines, '66-'71
Upgrade Ignition Swap From Breaker Points To GM HEI Electronic Ignition.

---
ODD FIRE !,

IF YOU HAVE A V-6 'JEEP' ENGINE ('66-'71), YOU SHOULD KNOW THE TERM!


The 'V-6 Jeep' Engine is actually a 'Dauntless' 225 V-6 GM engine.
It's an 'Odd Fire' design, which means you are pretty much stuck with a GM HEI for a distributor for an upgrade.

They are available from parts stores very readily, and with a little work,

The ODD FIRE GM HEI distributor will fit into your engine, giving you ELECTRONIC IGNITION and getting rid of those breaker points which are a nightmare...
Along with getting rid of the old 'Socket' Type distributor cap so you can use modern plug wires.


---

The '76 Buick Skyhawk is a pretty good HEI donor for a distributor for the 'Dauntless' Odd Fire Engine.


---

The ODD FIRE trigger in the distributor is an odd looking thing,
Really an engineering feat, but strange looking!




The way this works is:
You fire TWO cylinders at a time, One at the correct COMPRESSION STROKE TIMING,
The other 'Sister Cylinder' Fires on Exhaust Stroke along with the primary cylinder in each firing cycle.

When the 'Sister' cylinder is on compression stroke, the same two terminals on the cap fire,
This time you are sparking the EXHAUST stroke of the primary cylinder.

It's a strange way to do thing, but it will work!


---

GET A BRASS TERMINAL VERSION OF THE CAP!

ACCELL verion of the brass terminal EVEN FIRE (evenly spaced terminals) distributor cap & rotor, About $35.
This is just so show you what a reasonable cap would look like... NOT BLACK & HAS BRASS TERMINALS!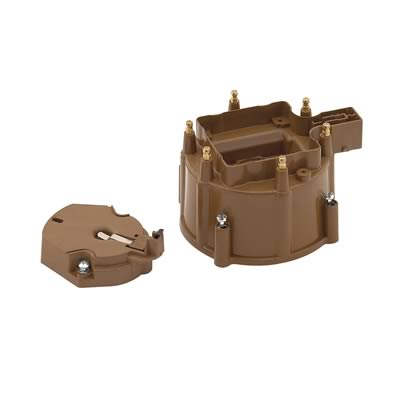 This is to show you the oddly spaced terminals on the cap...


---

Cap Center 'Button' and gasket. Also refered to as the 'RESISTOR' for an HEI system.


---

The ROTOR looks very much like the V-8 Rotor, although some will NOT interchange with the common V-8 Rotor, some will interchange the V-8 rotor just fine.


---

Ignition Coil with small metal 'Ground' strap you MUST have to make the ignition work correctly...




Three angle view of the coil 'Ground' strap...[/b]


---


You will need a tube of 'Heat Transfer Paste' from Radio Shack or a computer store.
Radio Shack p/n 276-1372, about $3.




DO NOTuse the Clear 'Dielectric Grease' supplied with most modules, it simply does NOT work well enough for this purpose.

---


ALL THE SAME RULES APPLY IN THE STANDARD 'COIL IN CAP' HEI.

You Will Need... Heat Transfer Paste,
You Will Need... A reasonable set of plug wires,
You Will Need... Dielectric Grease for the cap insulator,
You Will Need... To make sure the coil screws aren't too long,
You Will Need... To take the Ignition Resistor out of the old coil wire Positive (+) supply wire to get best performance...


---

The correct firing order on 225 Odd fire is started on factory designated #1, Then fires 6-5, 4-3, 2-1.

Your cylinders actually fire two at a time, one on 'Compression' stroke, while it's sister cylinder is on 'Exhaust' stroke...

Your Distributor cap must have the terminals connected so you get the correct firing order.

You MUST start at the FACTORY DESIGNATED #1 with your firing order or you will NEVER get the engine running correctly.

If you have an EVEN FIRE distributor cap, you will NEVER get the engine running correctly.